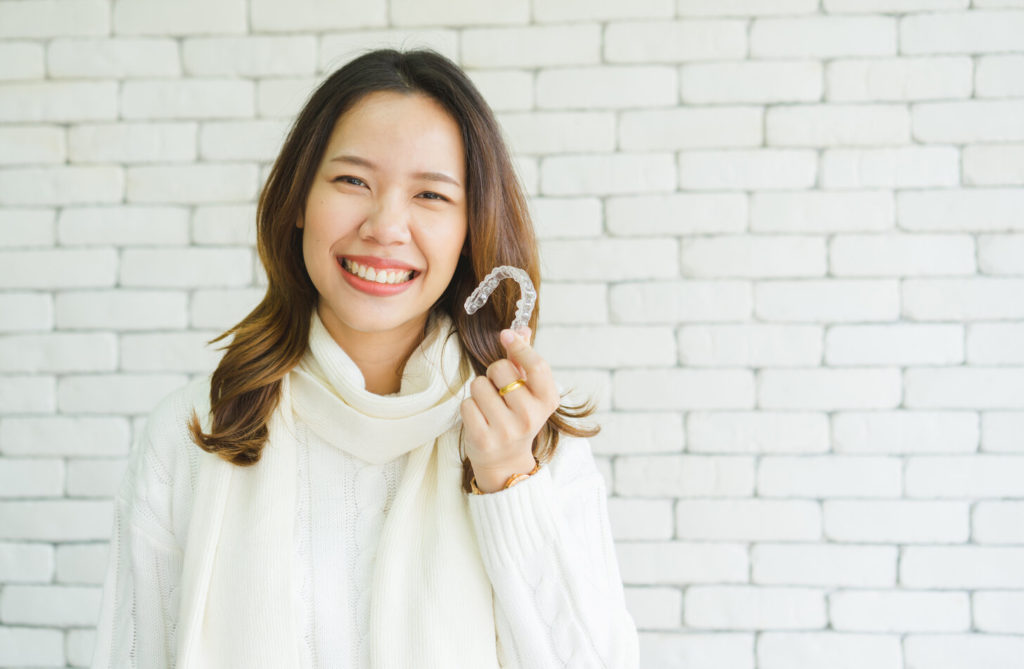 According to Invisalign's official website, over 10 million people have used their product to achieve straighter, more uniform smiles. Though Invisalign is a massively popular way to perfect one's smile, can you use it in conjunction with dental restorations like bridges, veneers, and crowns? Read on to learn a few things you should know about wearing clear aligners with dental restorations.
Wearing Invisalign with Porcelain Veneers
Veneers are attached to the front surface of the teeth and won't interfere with Invisalign treatment. Even so, it's still recommended to complete the Invisalign process before getting porcelain veneers. This is because veneers are designed to change the current appearance of your teeth. Since the teeth will look different once your Invisalign treatment is complete, the veneers may need to be replaced to better match them.
Wearing Invisalign with Crowns
Dental crowns are caps used to protect teeth that have been compromised due to severe damage or decay and to improve their aesthetics. They can be made from a range of materials, but porcelain is the most common. If you want to wear Invisalign with crowns, your teeth must be strong enough to handle the pressure the aligners will put on them. Your dentist may decide to extend your treatment plan so they can keep track of how your teeth are moving to make sure there aren't any concerns or complications.
Wearing Invisalign with a Bridge
If you're missing consecutive teeth, a dental bridge can be used to replace them. Dental bridges consist of three or more connected crowns, two of which are used to anchor the bridge. This can create issues where Invisalign is concerned. If a patient's misalignment problems aren't that severe, having a dental bridge may still qualify them for Invisalign. However, if you have issues with crowded or gapped teeth, your may want to speak to your dentist to see if they can split the bridge into sections so your teeth can be guided into the right position. If you decide to go this route, you'll likely need to have a new dental bridge made following the completion of your Invisalign treatment.
With Invisalign, pretty much anyone can straighten their teeth and achieve the smile of their dreams. If you have a dental restoration and are interested in getting Invisalign, make sure to speak with your dentist to discuss all your options. You'll be on your way to a more beautiful smile before you know it!
About the Practice
Dr. Steven Rodriguez, Dr. Hana Gadalla, and their team at Healthy Smiles Dental Care strive to administer the treatments their Flint patients need to improve their oral health and maintain healthy, happy smiles. They offer Invisalign to straighten your teeth and dental restorations like crowns, bridges, and veneers to protect and improve the look of your smile. Are you interested in scheduling an appointment or have questions about whether clear aligners will work with your dental restorations? Call Healthy Smiles Dental Care at (810) 720-6433 or visit their website to get started.